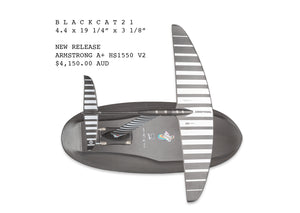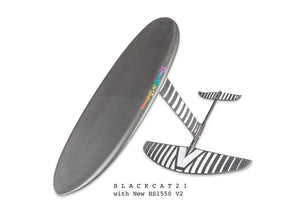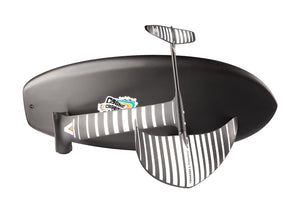 Cosmic Crafts foil boards + Armstrong A+ hydrofoils are the sure way to be out there ripping, pumping and gliding better than ever.
COSMIC CRAFTS COMPLETE PACKAGE DEAL
Included
1 Hand cut double lapped 198g Carbon Fibre Cosmic Craft Foil board with dual 10.75" future boxes. The dual future boxes are routed into high density foam inserted into the EPS blank. Carbon reinforcement patches are then laminated over the top, creating a very strong mast to board connection point. Travis Bristow has designed the Black Cat models with the latest design elements. They include, deepish double concave V nose entry for water displacement, plan shape transitional deep chined rails, with slight concave and edges for quick release and touch down control, deep side deadrise and a bevelled tail to assist with liftoff control and release.

Your choice of 1 Armstrong Hydrofoil kit. Armstrong are the leaders in hydrofoils. The new A+ System HA1125, HA925, HS1250, HS1550 V2, are further examples of their passion for surf foils, along with the HS1050 and the CF1200 are our best sellers. The Armstrong A+ system with the unique hex fitting for the mast and front wing gives 360 degree surface contact, maximising the load distribution area. This provides the rider with a positive direct feel from the wing to the surfer's feet. Armstrong's New Zealand designed foils are unique in terms of performance and construction. 
Astrodeck Back and front foot grip. Yep Astrodeck the original and still the best.
Our package offers you the best available products. We've taken all the searching around the web, conversations, texts and phone calls with mates into account, and here it is. Search no longer. It's time to get out there and fly. Complete foil kits come with. 1 Foil board, 1 Armstrong Hydrofoil kit, Front and back foot Astrodeck grip, 1 Smart Leash.
IF OUT OF STOCK CUSTOM ORDER PRODUCTION TIME 3-5 WEEKS. 
Awesome complete Foil package
Great discussion before to assist with the correct set up for me.
Minimum delay in getting order ready.
Quick & easy to track delivery.
Super communications during the whole process.
I have found the complete foil package exactly what was looking for and heaps of fun progressing on this equipment.
Highly recommended.
Scotty
Thanks
Love the gear and the prompt response to questions
These boards are the ultimate!
I had a JS Black Eagle and my new board blows it away.
Not only are the boards the best, Travis is a legend and is always up to help me progress my foiling. Can't recommend enough.
Cant beat them
Top quality board and foil package, excellent service and speedy delivery. You can't beat them.
Incredible Foil Package, Amazing Service
Travis went above and beyond to help me find exactly what I needed for a new foil set up, letting me try some different wings and boards, before making me the sickest board and then helping me tweak my foil set up to one that I really love. The 1250 is so fast and responsive and I couldn't be happier with the product and the whole Cosmic Crafts experience.