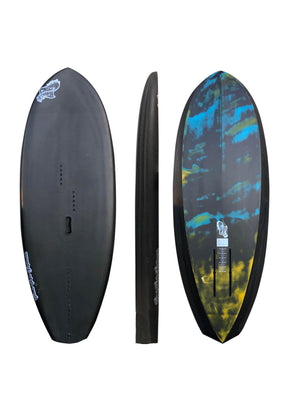 New 2023 Wind Wing Foil model is for those light wind conditions where you need a reliable board thats got the right combination of stability and top end performance once up on foil 

BLANK: EPS Foam Core. 3d Shape cut, then hand finished. I'm hand shaping in the more refined design elements.
MATERIALS & CONSTRUCTION: 200g Carbon Fibre twill weave, vacuum bagged to ensure quality, strength and even resin flow control, kinetics epoxy resin.
2 x 10.75" Future boxes + High density reinforced box / mast area with 200 gm Double Bias Carbon reinforcement patches.
PLAN SHAPE (OUTLINE)
a nice rounded nose with wide point forward to give stability when on on the surface and a pulled in tail balanced so as to still support you when on flat water, but still narrow enough to be out of the way when in critical positions. I've factored in other design elements for wave face touch downs or connections that slow you down. In other words the design allows for these wave touch downs and will ride through them and release. The overall appearance is that of flow.
BOTTOM SHAPE:
Rolled vee into subtle double concave into flat under the track boxes, with dave kalama inspired cut off vee tail, this design also helps make touchdowns and rebounds off foam less severe due to the planing area deflecting the water and minimising drag 
DECK:
Aerodynamic, minimal drag, concave vee deck with slight tail kick. The concave vee lowers your centre of gravity and the tail kicker gives balance, power and responsiveness. the concave deck is suited to straight stance or staggered stanced riders, The overall appearance is soft and smooth. 

EXTRAS
Foot straps can be custom ordered 
IF OUT OF STOCK CUSTOM ORDERS CURRENTLY TAKING 3-5 WEEKS