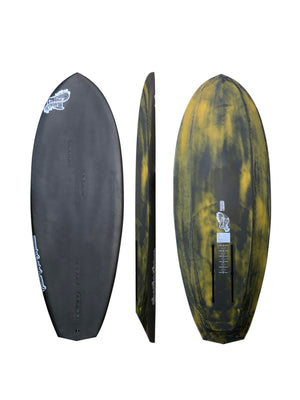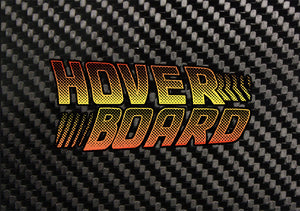 New 2023 Hoverboard Prone Foil model  is the evolution of the alpha prone model by enlarging the bevelled rails reducing the central surface area thereby removing potential surface area drag points during take off and touchdowns,  a subtle single concave deck to suit the rider that wants to ride straight stance or slightly offset, the widest point moved forward to bring more literage under the chest for paddling ease and a nice pulled in tail to enhance turning clearance and minimise drag if touching down.

BLANK: EPS Foam Core. 3d Shape cut, then hand finished. I'm hand shaping in the more refined design elements.
MATERIALS & CONSTRUCTION: 200g Carbon Fibre twill weave, vacuum bagged to ensure quality, strength and even resin flow control, kinetics epoxy resin.
2 x 10.75" Future boxes + High density reinforced box / mast area with 200 gm Double Bias Carbon reinforcement patch.
PLAN SHAPE (OUTLINE)
Widest point moved forward to bring more literage under the chest, pulled in diamond tail. Not too wide in the tail area so as to still support you when on flat water, but still narrow enough to be out of the way when in critical positions. I've factored in other design elements for wave face touch downs or connections that slow you down. In other words the design allows for these wave touch downs and will ride through them and release. The overall appearance is that of flow.
BOTTOM SHAPE:
A nice moderate vee double concave feeding into flat over the foil track boxes, bevelled concaved rails greatly reducing rail surface area allowing the board to break away from the minimised wetted areas, this design also helps make touchdowns and rebounds off foam less severe due to the planing area deflecting the water and minimising drag 
DECK:
Aerodynamic, minimal drag, concave vee deck with tail kick. The concave vee lowers your centre of gravity and the tail kicker gives balance, power and responsiveness. the concave deck is suited to straight stance or staggered stanced riders, The overall appearance is soft and smooth. 

EXTRAS
Foot straps can be custom ordered 
IF OUT OF STOCK CUSTOM ORDERS CURRENTLY TAKING 3-5 WEEKS