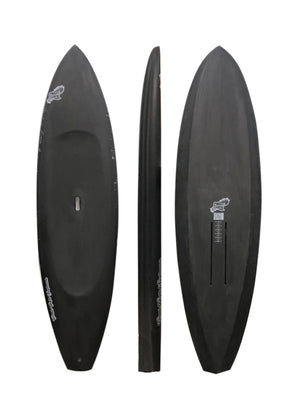 The 2023 Down Wind foil board is the latest offering for the down wind aficionado. 
BLANK: EPS Foam Core. 3d Shape cut, then hand finished shaping in the more radical design elements.
MATERIALS & CONSTRUCTION: 200g Carbon Fibre. Vacuum bagged to ensure quality, strength and even resin flow control. kinetics epoxy 
2 x 16" Chinook boxes + High density reinforced box / mast area, double bias carbon reinforcement patch and uni directional stringer patches.
Plan Shape:Standard downwind sup foil shape, balanced out to provide enough  stability, lift and glide during paddling and support on lifting and foiling 
BOTTOM SHAPE: Double Concave Spiral V nose to into a flat v tail section. concave bevel rail,These design elements assist with water flow speed and dispersal, aerodynamics and wave face touch down and release, speed and the angle of attack of the wing. The dual edge release system has been designed for wave face touch down moments because they're unavoidable and this will greatly assist you. 
DECK: Aerodynamic, minimal drag, domed with subtle centre concave standing area, doming the deck helps disburse the water washing over the deck minimising excess weight that could compromise ability to lift up to foil, The concave vee in centre allows the rider lower centre of gravity , power and responsiveness. 
IF OUT OF STOCK CUSTOM ORDERS CURRENTLY TAKING 3-5 WEEKS