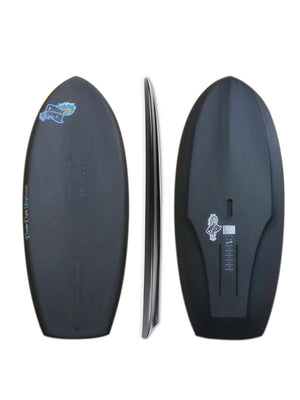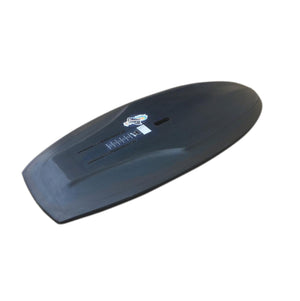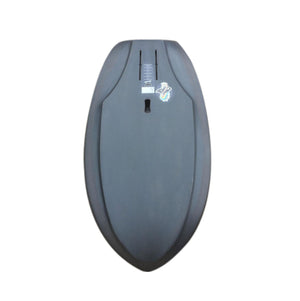 The Black Cat 2022 wind wing foil board is an extension of all the characteristics of the prone version with a few modifications to best suit wing foiling. 
BLANK: EPS Foam Core. 3d Shape cut, then hand finished. I'm hand shaping in the more radical design elements.
MATERIALS & CONSTRUCTION: 198g Carbon Fibre. Hand laminated then vacuum bagged to ensure quality, strength and even resin flow control. You need to feel the contours of the board as you laminate it to ensure 198g carbon weave sits flat and the weave is very tight to the shape as the epoxy gels. USA resin research epoxy resins used.
10.75" Future boxes + High density reinforced box / mast area, double carbon laminated V cut.
Plan Shape: Balanced, fast, wide square tail. Not too wide in the tail area so as to still support you when on flat water, but still narrow enough to be out of the way when in critical positions. I've factored in other design elements for wave face touch downs or connections that slow you down. In other words the design allows for these wave touch downs and will ride through them and release. The overall appearance is that of flow.
BOTTOM SHAPE: Double Concave Spiral V to slight concave into a flat tail section. Dual edges, concave bevel rail, tail scoop and deadrise. These design elements assist with water flow speed and dispersal, aerodynamics and wave face touch down and release, speed and the angle of attack of the wing. The dual edge release system has been designed for wave face touch down moments because they're unavoidable and this will greatly assist you. The rocker has been adjusted to best suit Armstrong foils with no need for shims. The hull design is quite brutal in appearance.
DECK: Aerodynamic, minimal drag, concave vee deck with tail kick. The concave vee lowers your centre of gravity and the kicker gives balance, power and responsiveness. The overall appearance is soft and smooth. 
IF OUT OF STOCK CUSTOM ORDERS CURRENTLY TAKING 3-5 WEEKS